WITL Wednesday + Thursday Photos and Words
Hey! I'm back again to share some of my Week in the Life process in photos and words. I haven't been working on the album quite yet but getting down the stories and gathering the images is really most of the work so I'm hoping sharing these little tidbits will help me in the long run - and give you a little inspiration as well! Hope your week is going well!
Wednesday Photos and Words
Up and at 'em - I only hit the snooze button once so that's a win, and I'm making an effort today which means mascara and other makeup
Finishing touches include my favorite blush - this one from Physician's Formula which is down to the pan, gasp!
V still sleeping means getting dressed in the dark with just these slivers of light coming through the window
Adding a scarf makes everything better. Literally, everything.
Ever since mother's day, there's been an extra special assortment of flower options at the local bodega and I'm in love with being able to pass the beautiful blooms
Hey, I resisted this temptation after grabbing my coffee so I'm gonna count that as a win today
The beautiful tile work in all the subway stations always makes me wonder how long it took them to make and why we don't value craftsmanship like that anymore
weird spinning wheel of doom means restarting the computer before even beginning
cafeteria tiles which happen to complement my outfit nicely because, well, black and white
Work work work work. Until the end of the day and then it's off to the races - and by races I mean home
Eh just casual strolling by this beautiful view on the daily
I walk over this little sliver of concrete everyday and it used to be cracked and weathered and I was quite fond of it but they painted it freshly and now it's just regular - I think I'm bothered by it
I love the blur of a train rolling up to the station at high speed. It's the sound and vision of getting to go home
The sun is still high and bright at the time I'm commuting home and it's kind of glorious - although I wouldn't mind if it was sunset time either
Yes, I'm eating Totinos pizza rolls for dinner. Don't judge me.
Thursday Photos and Words
It's been pretty chilly in our apartment which means fuzzy socks in my sleep
wowza could this bed head be any more serious of a situation right now
Early package delivery means sprinting to my front door to collect my Studio Calico package - phew I got the buzzer in time
Wet hair and water droplets on the mirror
Ready to jet. Luckily for me my short hair dries on my train ride so no styling involved here
It's so so beautiful outside - the sun is shining and it's finally spring-worthy weather reporting. This means flats and a comfy maxi dress to work today
Yes. coffee please. Feeling really lagged this week. I really need to get more sleep but until then it's to my iced caramel coffee with extra milk please and thank you.
My train is like 3 stories above ground so I get this beautiful view every morning - when I'm not sprinting to catch the express train before the doors close.
Waiting waiting waiting means sipping my coffee and checking Instagram most likely
Every Thursday this spring there's been a little pop up farmer's market with plants and cider etc and it just makes me very happy - plus it's where I bought my very first flower pot
Time for a little mini break - which means my morning corn muffin, yum yum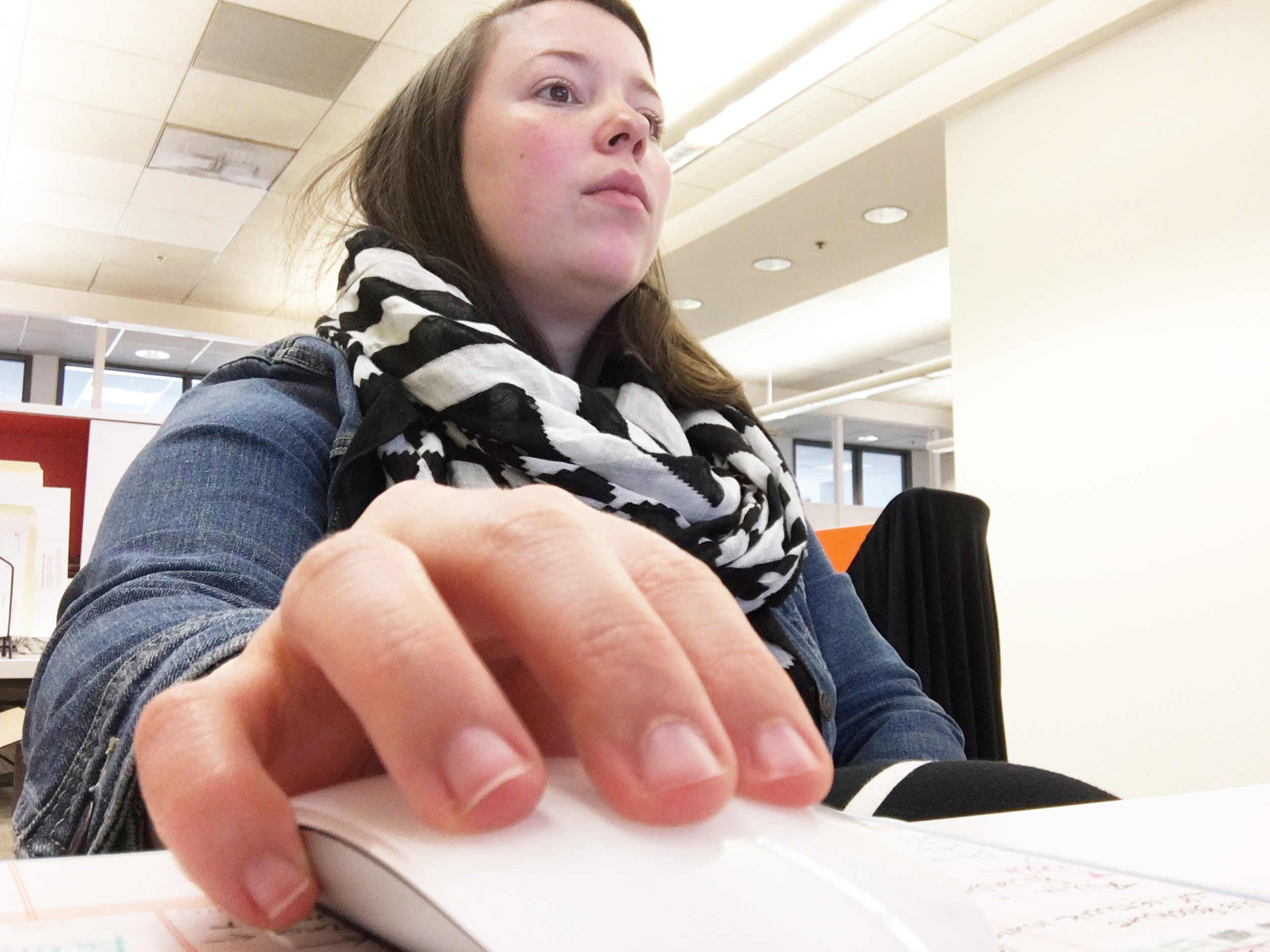 Back to work. It's a little chilly in the office so the scarf is essential and I'm obsessed with this magic touch mouse - it's fantastical
Lunchtime yay! A salad packed to the brim with goodness like my favorite craisins, corn, black beans, cheese and of course - chicken!
A little slow time in the office today means working out some calligraphy ideas and broken type inspirations
I love when I leave the office that I get a beautiful view of the sunlit skyline. It's a little refresher before heading into the madness of rush hour commuters
I always make sure to sit on the side of the train where I get a beautiful skyline view of Manhattan. It just makes traveling a little more enjoyable to see pretty things
One of my favorite parts of Queens is the tree lined streets and quaint colored buildings
Finally home I was able to rifle through my SC Kits! It was killing me all day waiting to see them. Love the bright colors and craftsmanship that's always prevalent in SC's work
Dinner with V at our local burger joint. I was craving a hot dog for some strange reason - I've noticed it a lot more recently and he got his usual - and we split the fries
Thanks so much for stopping by! As I said, I hope this gives you some ideas for documenting your life and I'd love to be inspired below so drop me a link to your words and photos if you have one!