DIY | Custom Scrapbook Album
Hi guys! Today I'm sharing a fun and quick DIY teaching you how to customize your leather scrapbook albums. I mentioned I was going to do this here in my post about planning for this year's Project Life. I decided to customize my 6x12" album this year because they discontinued the gold album that I had loved dearly and used for the past few years of Project Life. The only albums available in the 6x12 size that I could find were green and although I like green, I wasn't ready to let go of my metallic albums quite yet! Watch my short video or read the full step by step tutorial below for a how to so you can get fun colored albums as well!
Gather your supplies and have them on hand to get started. You'll need a leather album you want to repaint, a couple foam brushes, a flat edged paintbrush, Angelus Leather Preparer and Deglazer, Angelus Leather Acrylic Paint in your desired color (I mixed gold and copper together for my album!) and finally, an Angelus Acrylic Finisher of your choice (I chose the satin finish but you could use any of Angelus's options)
Step one is to prepare your leather for paint. Using the Angelus Preparer and Deglazer you'll want to apply it to a foam brush and brush generously over your book (outside and inside) until you see the glossy factory finish completely removed. This prepares the album to take the paint. If you miss a spot, the paint will ball up and won't adhere correctly so double check you've gotten the entire book covered. P.S.A–This stuff smells atrocious–it is a chemical after all–so please be sure to do this step in a well ventilated area!
The second step is to actually paint your album. You'll want to mix up your paint if you're mixing or just pour your color onto a plate, palette or something similar. Once your paint is out and ready, you're going to paint your album's outside in light layers (I needed 5 layers but it may depend based on the density of your chosen color). Keeping your layers very light is key to the finished product. Layering light will keep your strokes less noticeable and results in a better finished product! Also be sure to let the layers dry completely before starting the next coat–the paint will begin to pull up if you apply a layer on top of a wet one so be patient during the process. Allow to dry for a long period of time after completing all layers (it will take longer in heat or humidity so judge dependent on your situation).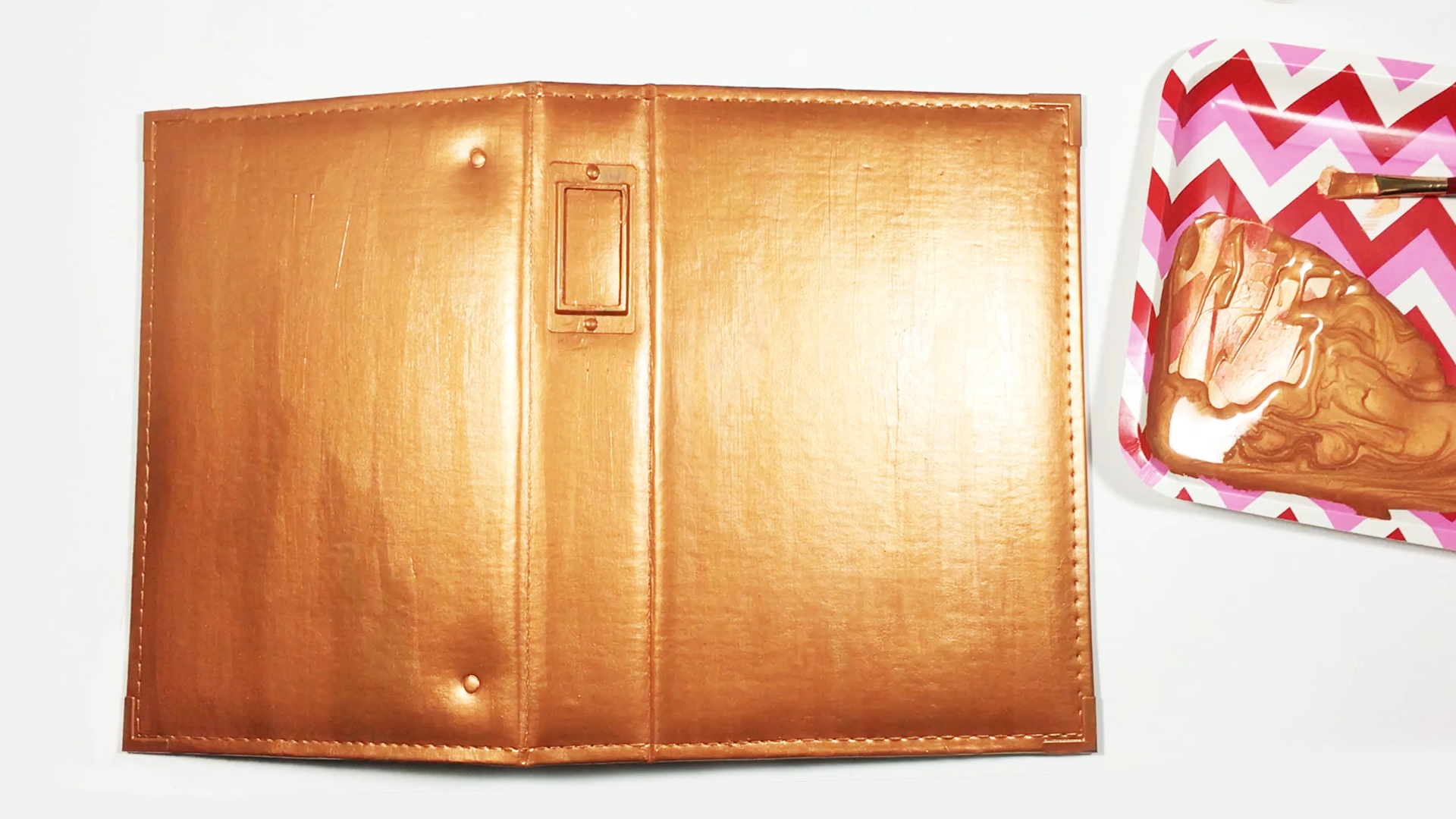 Step three is is to flip your album over and paint the outer edges and inside edges in layers as well. Because mine was such a small space, it only took 2 coats to get mine covered nicely.
Step four is to apply your Acrylic Finisher to the album. Start on the outside and apply a light even coating to the entire album with a foam brush. Allow to dry generously. Flip the album and apply the finisher to the inside edges as well.
Once your album dries completely, you are ready to enjoy it! I hope you found this tutorial fun and useful!
–Check out the–
Products Used
some links provided are affiliate links. read my faq for full disclosure.
I'm so glad you joined me this week!
Have you found the need to customize an album? What color would you choose? Let me know in the comments below!!